Brick Repointing
While bricks, stones and blocks are hardy materials, mortar is softer and will deteriorate quicker. Therefore, it needs regular attention. The visible outer face of mortar is known as "pointing". When the pointing is lost due to age, rain, frost and wind, it can damage the mortar which is the substance that protects the building from water ingress. When a little bit of water seeps in it causes the so called freeze-thaw effect: the water freezes and expands the substance around it. When the water thaws, more water can seep in, freeze and expand even more. The salt in the water causes long-term damage, including damp, to buildings. The mortar deteriorating is a natural process. Repointing restores the condition and physical appearance of a building structure and ensures weatherproofing in your walls.
If you require a professional brick pointing, then our brick specialists are here to assist you. We cover Dorset, Hampshire, and London Area. Our experienced surveyors will provide you with a solution plan to remedy it.
To find out how we can help you today, please get in touch with us by calling 01202 737 723 or complete the contact form to book a survey.
Small cracks between the mortar and the brick face might be the first sign of deterioration. This condition is easily worsened by even just a little bit of rainy weather. A sign of the weather taking its toll on your building is when you can easily spot open masonry joints around the mortar bed.
Repointing is an essential maintenance job if you want to maintain or increase the value of your property by avoiding pollution damage, damp and in the worst-case scenario: wall collapse.
Each UK building requires stone or brick repairing every 50-60 years, although some properties are more susceptive to weather damage than others, namely: 
Costal buildings – a higher level of salt in the air will be harsher on the mortar and may require repointing more frequently.
Windy and wet areas – stormy areas or areas with frequent rain and wind such as the Scotland Highlands are likely to put more of a strain on mortar and more frequent intervention may be needed.
Properties of a lower standard  – properties built with weak cement or inappropriate materials are not as sturdy as buildings built with lime mortar and will require more frequent attention.
When will my property need Brick repointing?
It is vital that you review your brickwork in both the front and back of your property for potential need of repointing. This can easily be done by you. Simply try to dig with your finger into a joint in the bricks and see if any mortar comes off. You can also measure the depth against the height of the mortar. The depth being bigger than the height of the mortar gap is a good indication that you need repointing done.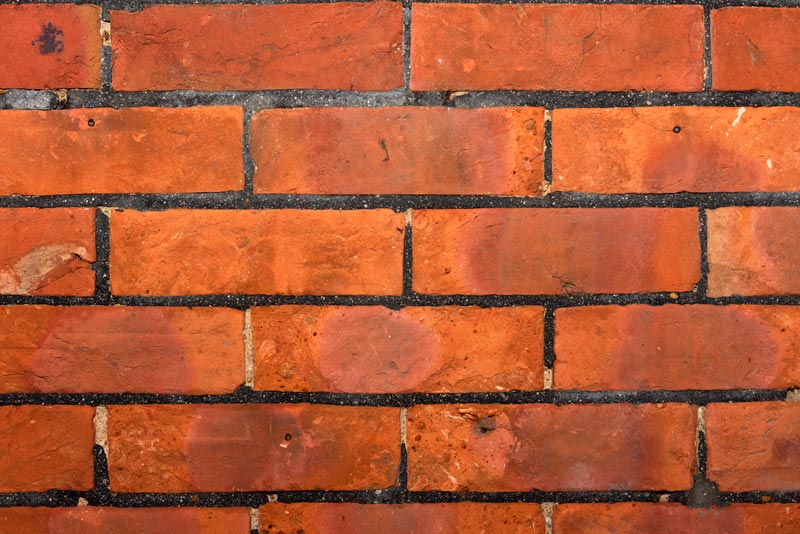 Why is repointing so important?
Mortar usually makes up about 15% of the overall surface area. To neglect it does not only compromise the stability and performance of your home but also its appearance.

Water ingress is a common contributing factor to damp, which in turn causes mould. Black mould can seriously damage your and your family's health by triggering allergic reactions and cause respiratory infections. It is also proven to cause skin irritation, red eyes and other symptoms of a cold. Elderly and children are the most vulnerable.
Repointing is important for maintaining the original character and holding of older and listed homes. It will also preserve the aesthetic value of newer homes. If you are looking to sell your home, repointing is crucial as the poor aesthetic of a chipped exterior can devalue your property.
Comfort:
Leaving the mortar to deteriorate can cause serious issues with damp. Living in a damp home is unpleasant for many reasons. It leaves you with a cold and generally "damp" feeling.

Heating bill deduction:

A damp home will have you crank up the heating. In order to avoid a cold and damp home, you need to ensure that you repoint the mortar at least once in your lifetime.
Are You Having Problems With Penetrating Damp? CALL OUR SUPPORT​
How brick repointing is it done?
Having your property repointed by us will be fast and efficient and leave a stunning result. These are the steps we take to ensure you are left with a safe and beautiful home:


Before we start, we pin back any plants that have been growing up against the walls and then tether them into place. This is a common procedure for most maintenance work. To avoid making a mess on your flower beds or grass we cover them with plastic sheets before any work is carried out on the wall.


To repoint mortar joints, we start with gently raking out the old mortar. This means that we remove the old mortar, generally to a depth of 15 to 20 mm, although sometimes more is needed. We use 5″ angle grinders with 6mm mortar raking diamond blades and dust extraction units, giving clean cuts to the top and bottom joints.


Before we apply the new mortar, we clean the brickwork using a spray applicator to wash away dust and provide maximum grip to the brickwork.


We carefully measured out the mortar mix in order to ensure that the colour is consistent for the whole job. This ensures a better looking result.


The traditional method of repointing is to use a trowel or jointing tool to firmly push the mortar into the raked out space, working from right to left and from the top of the wall downwards. We do this in order to keep any dust and water spray away from the newly repointed joints. We use a mix of power tools and hand tools such as comb hammers, depending on the property. We take great care and use a narrow chisel around doors and windows to avoid pushing loose pieces further in around the frames.


The drying process takes a few hours but it largely depends on the weather and the position of the house in relation to the sun. Most jobs take between two and six hours.
 
When we've finished, we take off excess mortar and clean up the stonework using a wire brush, leaving your property in a safer, more stable, and attractive condition.