Kitchens
Kitchen Fitters Dorset Hampshire
Our kitchen fitters offer complete kitchen installation and fitting of any model or brand. Whether you like Plain English, Neptune, Martin Moor, British Standard or any other brand, you can always rely on our fitters to leave you with the kitchen of your dreams.
At Kola Construction, we understand that the kitchen is one of the most important rooms in your home, and therefore take great pride in getting it installed to suit your lifestyle and needs.
We also offer kitchen renovation, including old kitchen improvement, repair, worktop installation, door and floor installation, reconfiguration of the wall and more. Whether your kitchen requires a full makeover or just retitling, we will get the job done. No matter how small or big the job is, our kitchen fitters and renovators can help you out and create a functional, efficient and elegant space in your home.
How long does the process take?
We aim to keep the disruption to your life to a minimum. A typical kitchen installation project is usually completed in two weeks but depending on the size it may be longer or shorter.
What is the process like?
We start off by draining the kitchen pipes by shutting off the water supply for a few hours. Once the pipeline work is complete you will have access to water in the rest of your home again.
Then we strip the kitchen, which is a fairly quick process.
In some cases we need to move cables and plumbing before we carry out any patching/floor levelling or skimming of walls.
We move on to minor building work such as building stud walls, moving doorways, taking down walls, etc.
We make alterations to the plumbing or electrics where needed. This can take from half an hour to a few hours.  Any new electrics for fused spurs, sockets and switches are marked out.

Plumbing is extended for the sink to suit the new layout of the kitchen.
We chase out the walls and fit back boxes and wiring in place.
We prepare and plaster walls and ceilings before any required coving is put up.
Then we move on to tile and grout the floor.
Time to fit the units! We normally start with the base units, starting at one corner.
We install the new worktops and the sink. We cut the worktop out to size and joint.
We reconnect the sink.
Wall tiles are fitted, if needed.
Then we get to work on the cornices, pelmets and infill panels, the doors, drawer fronts and plinths.
We install all integrated appliances, connect and test them.
Time to clean up! Congratulations, your new kitchen is now fitted.
Quality service Guarantee
Why get a new kitchen installed?
Installing a new kitchen will not only make meal preparations more enjoyable, but will undoubtedly increase the value of your home. Figures show that installing a new kitchen to your home can add value of up to 6%. A stunning and efficient kitchen is an important factor to potential buyers. Therefore, installing a new kitchen is a well worth investment if you are thinking of selling your property.


Why should you choose us?
Our team of highly skilled tradesmen are experienced, hard-working and reliable and will make sure to leave you stunned by your beautiful and fully functional new kitchen. Our team has over 20 years of experience and has worked within the UK and abroad. We are known to conduct our work in an orderly manner to our customers' preference and satisfaction.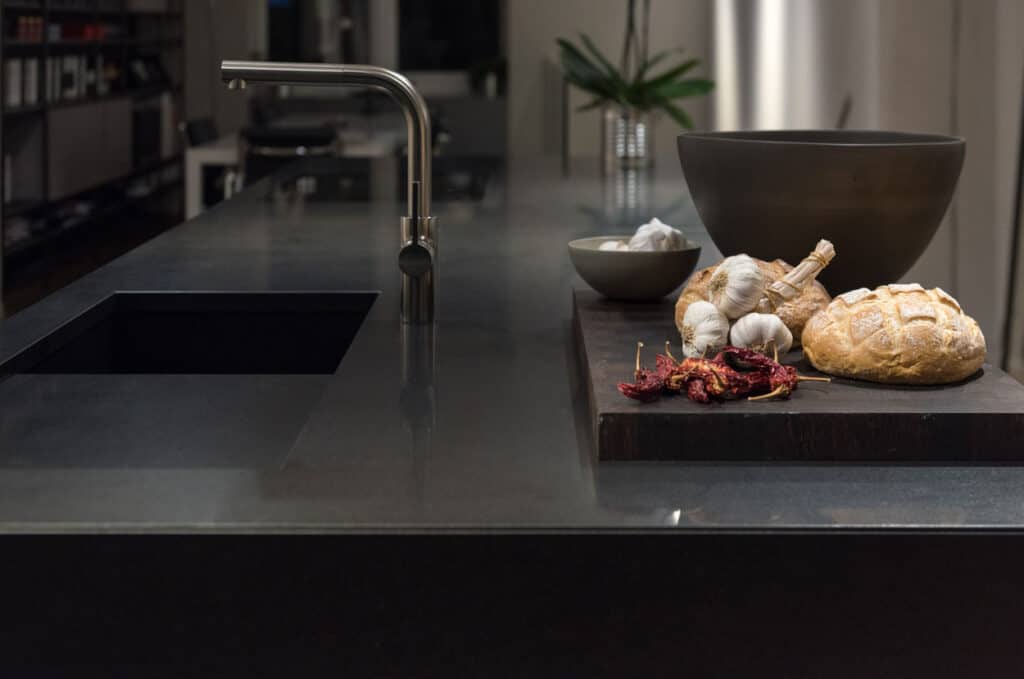 Where do we offer our kitchen fitting services?
Our kitchen fitters offer kitchen installation service and renovation in Dorset, Hampshire and surrounding areas. We always ensure the highest quality of work to an affordable price.
What do I need to do before a kitchen installation/renovation?
Before our team comes to fit your new kitchen, it is a good idea to empty your cabinetry completely. If you wish to place the content in boxes, don't forget to label them, so that you can easily find what you need once your new kitchen is installed.
Remove all pictures, mirrors and frames from the kitchen, adjoining rooms and hallways leading in. Frames in the adjoining rooms and halls can sometimes fall down and get damaged in the process.
You will be without a kitchen for a few days or weeks, so remember to set up a temporary kitchen. We can help you with this if you let us know beforehand.
If you are renovating the kitchen and have ordered new floors, you might need to protect and cover the basement floor or the floor of the room below the kitchen. When the kitchen floor is ripped out, dust and small pieces of debris can fall through gaps onto the room below, so please protect and cover everything.